Posted on
SANFORD, FL — The holidays are a time for celebration, visiting with loved ones, and reflecting on the year past and the year ahead. Yet all too often, the holiday spirit is destroyed by the recklessness of a drunk driver.
That's why the Seminole Prevention Coalition is joining with highway safety partners and law enforcement organizations across the country this December to remind everyone that Buzzed Driving is Drunk Driving, and that drinking and driving don't mix.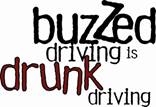 Whether you've had one or one too many — drinking and driving is never worth the risk. If you are going to drink, designate a sober driver before the party starts, and encourage your friends and family to always do the same.
Twenty-nine percent of fatalities during the Decembers of 2007 to 2011 occurred in crashes that involved drivers with blood alcohol concentrations of .08 grams per deciliter or higher.
According to the National Highway Traffic Safety Administration, 760 people died as a result of drunk driving-related crashes during December 2011.
The Seminole Prevention Coalition is encouraging people to take steps to ensure their holiday celebrations don't end in tragedy.
Designate a sober driver before the celebrations begin; plan a way to get home safely at the end of the night.
If you are impaired, call a taxi, phone a sober friend or family member, use public transportation or call the free ride program Tow to Go, sponsored by AAA and Bud Light, at (855) 2-TOW-2-GO or (855) 286-9246.
Be responsible. If someone you know is drinking, do not let that person get behind the wheel.
If you see an impaired driver on the road, contact law enforcement. Your actions may save someone's life, and inaction could cost a life.
The holidays should be a time for celebration — not tragedy. Help the Seminole Prevention Coalition make Seminole County's roadways safer by never driving after drinking. Remember: Buzzed Driving is Drunk Driving.