Posted on
SANFORD, FL – As Super Bowl Sunday approaches and football fans across the country prepare for the game, the U.S. Department of Transportation's National Highway Traffic Safety Administration (NHTSA), along with the National Football League (NFL) and Techniques for Effective Alcohol Management (TEAM) Coalition, have joined forces with local highway safety and law enforcement officials to spread the message about designating a sober driver on Super Bowl Sunday, because – Fans Don't Let Fans Drive Drunk.
According to NHTSA, in 2011, 9,878 people were killed in alcohol-impaired-driving crashes. These crashes were 31 percent more likely to occur on weekends than on weekdays.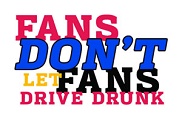 Whether attending the game, watching at a bar or hosting a party, NHTSA, TEAM Coalition, the NFL and the Seminole Prevention Coalition remind everyone that Fans Don't Let Fans Drive Drunk.  Before choosing to drink, choose your team's MVP – a sober designated driver. NHTSA offers these additional safety tips:
If you're attending a Super Bowl party or watching the game at a sports bar or restaurant:
If you don't have a designated driver, then ask a sober friend for a ride home; call a cab, friend, or family member to come and get you; or just stay for the night.
Call the free ride program Tow to Go, sponsored by AAA and Bud Light, at (855) 2-TOW-2-GO or (855) 286-9246.